Compilation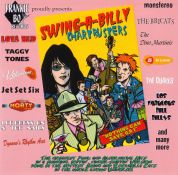 "SWING-A-BILLY CHARTBUSTERS"
Frankie Boy Rcds | 22 titres | 2003 | Divers
Critique : Compilation très variée dont le but est de présenter des standards du Pop-Rock (de TALKING HEADS à NIRVANA en passant SANTANA et RADIOHEAD) par des groupe -Billy. Un CD qui regroupe des pointures du Neo-Rockab et du Psycho comme the LUCKY DEVILS, TAGGY TONES ou the QUAKES mais surtout de nombreux groupes à saveur Swing ou Doo-Wop.
Le tout donne une compilation très variée, tellement variée que malgré sa thématique, elle manque parfois d'homogénéité. Bref, quelques excellentes surprises à découvrir, comme cette très bonne version Swing de "Mexican Radio" par LEE PRESS, ou le discret clin d'œil à BATMOBILE par the BRICATS sur leur reprise des MISFITS.
Album sorti en CD et double-album sur Frankie Boy Records, une division de Wolverine Records.
Liste des titres: 1. Lee Press And The Nails: Mexican Radio 2. The Bricats: Last Caress 3. Velvetone: Welcome To The Pleasuredome 4. The New Morty Show: White Wedding/Rebal Yell Medley 5. Taggy Tones: Blitzkrieg Bop 6. The Dino Martinis: Psycho Killer 7. Los Fabulous Bill Billys: Metal Warriors 8. Lota Red: Blackhole Sun 9. The Deadcats: King Of Fools 10. Jet Set Six: House Of The Rising Sun 11. Dusty Gray & His Rough Ridin' Ramblers: Working 12. Buffalo Billys: 1-2 Ultraviolento 13. Dynamo's Rhythm Aces: Teenage Kicks 14. Five In Love: Smooth 15. The Quakes: The Killing Moon 16. Tim Tamashiro: Spiderman 17. The Lucky Devils: Smells Like Teen Spirit 18. Peace Brothers: Anarchy In The UK 19. The Senti-Mentals: Creep 20. Hipster Daddy-O: Good Two Shoes 21. Paul Galaxy And The Galactix: Fat Bottom Girls 22. The League Of Decency: Radar Love
&nbsp [0 critique]