Compilation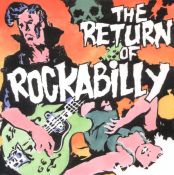 "THE RETURN OF ROCKABILLY"
Beloved Recordings | 14 titres | 1999 | Neo-Rockabilly
Critique : Compilation CD réunissant la fine fleur du Neo-Rockabilly britannique (POLECATS, RESTLESS, SPACE CADETS, SHARKS, etc.), plus quelques autres groupes plus récents (de la fin des 90s), majoritairement américains (the BELMONT PLAYBOYS, the AMAZING CROWNS, etc.) mais pas uniquement. Un mix varié qui fonctionne plutôt bien.
Cette compilation sera réédité sous le titre "We Will Rock Ya".
Liste des titres: 1. The Big Six: We The Boys Will Rock Ya 2. The Belmont Playboys: Have Wheels Gotta Roll 3. Slap N The Cats: Sharrock Webster, Keert 4. The Space Cadets: We're Gonna Rock Rock Rock 5. Restless: Put Me Down 6. The Polecats: Rockabilly Guy 7. Fishnet Stockings: Red Bandana 8. The Amazing Royal Crowns: Do The Devil 9. Mac Curtis: Are You Ready To Rumble 10. The Belmont Playboys: Runnin' Wild 11. The Sharks: Ghost Train 12. Cigar Store Indians: Yipin 13. Fishnet Stockings: C'mon Everybody 14. The Big Six: Hey Hey We're Gonna Rock It
&nbsp [0 critique]