Compilation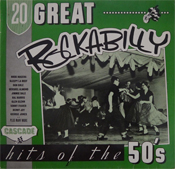 "20 GREAT ROCKABILLY HITS OF THE 50 S"
Cascade Rcds | 20 titres | 1983 | Rockabilly
Critique : Excellente compil de 50's Rockabilly, avec quelques grands noms (GLEN GLENN, SLEEPY LA BEEF, etc...) mais également quelques perles plus ou moins rares.
Mais pourquoi retrouver ce disque dans Go Psycho?
Tout simplement parce que parmi ces 20 hits, on retrouve 2 anachronismes flagrants dont on parle par ailleurs dans l'EncycloBilly: tout d'abord MATCHBOX avec un titre de l'album "Settin' The Woods On Fire", et surtout les excellents POORBOYS avec un titre de leur EP "Move, Baby, Move".
Liste des titres: 1. Johnny Todd: Pink Cadillac 2. Rock Rogers: My Baby Left Me 3. Glen Glenn: Everybody's Movin' 4. Hershel Almond: Let's Get It On 5. Jesse James: Red Hot Rockin' Blues 6. Jimmie Dale: Baby Doll 7. Don Cole: Snake Eyed Mama 8. Chester McIntyre: I'm Gonna Rock With My Baby Tonight 9. The Poorboys: Move, Baby, Move 10. Al Urban: Lookin' For Money 11. Gene Wyatt: Prettiest Girl At The Dance 12. Sleepy La Beef: All The Time 13. Benny Joy: Spin The Bottle 14. Hal Harris: Jitterbop Baby 15. Les Cole: Be Boppin' Daddy 16. Sonny Fisher: Rockin' Daddy 17. George Jones: Rock It 18. Matchbox: Circle Rock 19. Glen Glenn: Blue Jeans 20. Benny Barnes: I Walk The Line
&nbsp [0 critique]