Compilation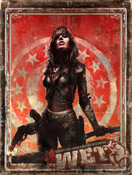 "WET - The Video Game Soundtrack"
Bethesda Softworks | 39 titres | 2009 | Divers
Critique : En 2009 est sorti un jeu vidéo aux allures de film de Quentin Tarantino, et surtout à  la bande sonore très orientée Psychobilly. Le jeu en lui-même, je ne pourrais pas vous en parler, préférant le strip-poker aux consoles de jeux, mais la bande son est terrible! On y retrouve des groupes canadiens (le studio de production étant basé à  Montréal) comme the GUTTER DEMONS, the CREEPSHOW, the HYPNOPHONICS ou encore the BRAINS, mais également américains (ARKHAMS, qui signent là  l'un meilleurs titres de cette compilation, the CHOP TOPS, CREEPIN' CADAVERS, ...) et quelques pointures, dont the LONG TALL TEXANS.
Bref, ce n'est pas si souvent que le Psychobilly s'exporte dans d'autres domaines et, bien que cette soundtrack ne soit pas sortie sur CD (il faut soit acheter le jeux, soit se tourner vers internet pour l'écouter), il me paraissait légitime de la faire figurer ici.
Liste des titres: 1. Arkhams: Insane 2. She's Lost Control 3. Long Tall Texans: Adventure 4. Why Did You Lie To Me 5. Gypsy Pistoleros: Una Para Todo Es Bandido 6. Switchblade Kiss Comes Close 7.Switchblade Closer 8. Crazed Gypsy Girls Lair (Loco Loquito) 9. Rubi's Got A Gun (Wet 2 Theme) 10. Brains: You're Dead 11. Three Bad Jacks: Crazy In The Head 12. Hypnophonics: Romance With A Rapist 13. Dead Meat 14. Scream 15. Children of the Atom 16. Invasion 17. Creepshow: Rock'n'Roll Sweetheart 18. Chop Tops: El Diablo 19. Bad One Stomp (live) 20. Radium Rag 21. Teddy Boy Stomp 22. Creepin' Cadavers: Frankie Dig A Hole 23. Aquarium 24. New Skool Kings: Surf Song 25. Gutter Demons: The Offer 26. Agents Del Futuro: The New Gills 27. Bert Selen: Western Rock 28. Brasstronaut: Old World Lies 29. Requiem for a Scene 30. Corpse Show Creeps: El Matador 31. Rebel Rock 32. Echo Pilot: Three Village Sound Clash 33. Eliazar: Flyin By 34. Knock Galley West: As We Ride 35. Murder 36.Undead West 37. Mushroom Lounge So Fine in the Sunshine 38. Johnny Cash: God's Gonna Cut You Down 39. The Notorious MSG: Chinatown Hustler
&nbsp [0 critique]