Compilation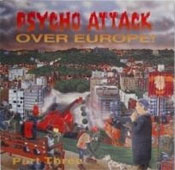 "PSYCHO ATTACK OVER EUROPE ! part.3"
Kix4U Rcds | 28 titres | 1993 | Psychobilly
Critique : Ce dernier CD de la série reprend dans son intégralité le volume 5, un titre du volume 3 (SPELLBOUND), plus 10 titres supplémentaires des groupes suivants: ROCKIN' BONES (France), the FREEZER (Italie), CLIFFHANGER (UK), CARAVANS (UK), the SWINDLERS (Russie) et WHIP ME HOUSTON (UK). Une excellente façon de finir la série.
À noter: toujours une faute d'orthographe sur le noms des SWAMPY'S.
Liste des titres: 1. Numbskulls: Psychophobia 2. Rockin' Bones: Erotic Robot 3. Scam: You Can't trick Me 4. Frantic Flintstones: Honey Maker 5. Tiny Minds: Tell Me 6. The Freezer: I Need A Schock 7. Cliffhanger: Schock Treatment 8. Caravans: More Whiskey 9. Swindlers: I Will Fly 10. Ruffnecks: Last Kiss 11. Skrunch: Teflon Shake 12. Swampy's: Cinderella 13. Meantraitors: Sinners Dance 14. Whip Me Houston: His Latest Flame 15. Numbskulls: Hideaway 16. Scam: Running 17. Frantic Flintstones: The Race Is On 18. Tiny Minds: Psycho Music 19. Ruffnecks: Psycho Hicks From Hell 20. Spellbound: Last Breath 21. Cliffanger: Twilight Zone 22. Swindlers: I Ha To Be A Sad 23. The Freezer: Bikers From Hell 24. Skrunch: Cadillac 25. Swampy's: Rockhouse 26. Meantraitors: Witchbarber 27. Meantraitors: I Ask You Help Me Please 28. Rockin' Bones: Tremors
&nbsp [0 critique]