Compilation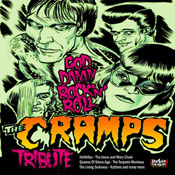 "GODDAMN ROCK N ROLL - THE CRAMPS TRIBUTE"
Liberula Barriguda Rcds | 25 titres | 2009 | Psychobilly
Critique : Étrange compilation qui est composée à moitié de titres qui étaient sortis en 1993 sur un autre tribute aux CRAMPS ("SONGS THE CRAMPS TAUGHT US" édité sur Jungle Rcds). Il s'agit principalement des groupes venant de la scène Psychobilly (HELLBILLY'S, RATTLERS, TERMITES, ROUGHNECKS, etc.). L'autre moitié est composé de groupes qui viennent de la scène Rock et ou alternative (comme QUEENS OF THE STONE AGE, The JESUS & MARY CHAINS, ...) ou Garage (TOO BAD YOU'RE GONNA DIE, MANIC HISPANIC, ...) . Malgré quelques rares ratés comme la pénible version d'"HOT PEARL SNATCH", cette très bonne compilation, fidèle à l'esprit du groupe, est très homogène et ravira les fans des CRAMPS.
Liste des titres: 1. Hellbillys: Mad Daddy 2. The Jesus and Mary Chain: New Kind Of Kick 3. Nightmares: How Far Can Too Far Go 4. The Sindys: Naked Girl Falling Down The Stairs 5. 3-D Invisibles: Zombie Dance 6. Manic Hispanic: La Crusher 7. Too Bad You're Gonna Die: Green Fuzz 8. Bongo Beatin Babies: Two Headed Sex Change 9. Crestfallen: Human Fly 10. Queens Of Stone Age: The Most Exalted Potentate of Love 11. Pukes: Nothing But A Gorehound 12. The Torpedo Monkeys: Like A Bad Girl Should 13. Blazin' Saddles: God Damn Rock'n'Roll 14. The Trailer Trash Orchestra: All Woman Are Bad 15. Monsters: Drug Train 16. The Living Sickness: The Hot Pearl Snatch 17. Rattlers: Beat Out My Love 18. Mondo A Go Go: Voodoo Idol 19. Sick Sarge & The Spleens: Creature From The Black Leather Lagoon 20. The Sindys: Can Your Pussy Do The Dog 21. Roughnecks: Bend Over I'll Drive 22. Thee Bellevettes: Faster Pussycat 23. Termites: Can't Find My Mind 24. The Reserections: Garbageman 25. Too Bad You're Gonna Die: Sometimes Good Guys Don't Wear White
&nbsp [0 critique]