Compilation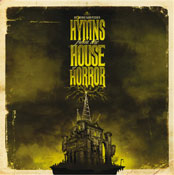 "HYMNS FROM THE HOUSE OF HORROR"
Rue Morgue Radio | 17 titres | 2010 | Divers
Critique : Sortie à l'occasion du 100e numéro du magazine Rue Morgue, "RUE MORGUE RADIO'S HYMNS FROM THE HOUSE OF HORROR" est une compilation orientée Horror-Rock, avec quelques incursions vers le Hard, le Psychobilly, le Surf, les ballades creepy ou le Gothic. Variée, très bien équilibrée, originale et comportant d'excellents titres dans leurs styles respectifs.
Autre avantage, cette compilation était offerte en téléchargement gratuit en temps limité sur le site du magazine.
Liste des titres: 1. The Creepshow: Rue Morgue Radio 2. Midnight Syndicate: Haunted Nursery 3. Cauldron: Into The Cauldron 4. The Independents: Black Dream 5. Ghoultown: Return of the Living Dead 6. The Ghastly Ones: Banshee Beach 7. Psycho Charger: Redneck Zombies (Tomb Dragomir Remix) 8. Harley Poe: It's Only the End of The World 9. Those Poor Bastards: Nightmare World 10. Dead Man's Bones: My Body's a Zombie for You 11. Forbidden Dimension: Hand of Glory 12. Zombina and the Skeletones: Something Weird 13. Creature Feature: Grave Robber At Large 14. Damn Laser Vampires: Saint of Killers 15. Balzac: Hurt 16. The Handsome Family: The Lost Soul 17. The Unsettlers: Oil and Blood
&nbsp [0 critique]