Compilation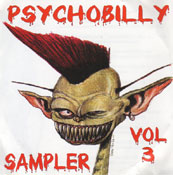 "PSYCHOBILLY SAMPLER vol.3"
Fury Rcds | 20 titres | 2006 | Psychobilly
Critique : Bonne compilation, tout à fait dans le style des "BEST OF FURY" ou des "RUMBLE PARTY".
Pas mal de noms connus (SHARKS, KLINGONZ, SKITZO, DEMENTED ARE GO, ...), quelques groupes plus récents (HENRI & the BLEEDERS, GENERATION MONGOLOID, ...), le tout pour une vision assez large du Psychobilly (New-school, old-school, Neo-Rockab, etc.) et néanmoins très homogène.
Liste des titres: 1. Skitzo: Skitzomania #2 2. Caravans: Man I Killed 3. The Griswalds: Psycho Tendancies 4. Something Shocking: Who Cares 5. Deuces Wild: Brutal Purity 6. The Gazmen: The Kid from Mars 7. Henry & The Bleeders: Hillbilly Is a Psycho Band 8. Sharks: Sir Psycho 9. Nitros: I'll Get Mine 10. Rednecks In Pain: Razorback Attack 11. Generation Mongoloid: Martians 12. Stompin' Pompadours: Curse of the Mummy's Tomb 13. Os Catalepticos: Cannibal Holocaust 14. Demented Are Go: Zombie Stalk 15. Kryptonix: Dark Side of Love 16. Iris Heath: Rocket Science 17. Empress of Fur: Hell Hawaiin Style 18. Zoot Zoot: Your Kinda Lovin' 19. Jackals: Psychobilly Belinda 20. Klingonz: H.O.M.O. (Here on My Own)
&nbsp [0 critique]