Compilation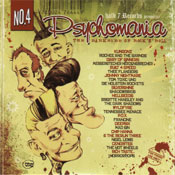 "PSYCHOMANIA n.4 Fanzine"
Halb 7 Rcds | 24 titres | 2008 | Psychobilly
Critique : 4e édition de ce superbe zine allemand. Au programme: plus d'une 20aine d'interviews (FRENZY, GUANA BATZ, SHADOWBIRDS, RICH TASTE, ...) et de nombreuses critiques de disques, le tout une nouvelle fois dans la langue de Goethe, et avec une superbe présentation.
Le CD reprend quelques uns des groupes figurant en entrevue, plus d'autres, et s'étend du Neo-Rockabilly vif de CHIP HANNA and the BERLIN THREE jusqu'au New-School de JOHNNY NIGHTMARE, en passant par plusieurs grosses pointures comme NIGEL LEWIS, KLINGONZ ou ROCHÉE and the SARNOS.
Liste des titres: 1. intro 2. Rochée & the Sarnos: V3 3. Francine: Keep Your Head Up 4. Shadowbirds: The Monster 5. the Hot Wheels: Put The Blame On Me 6. Brigitte Handley: Sleeping With A Vampyre 7. Johnny Nightmare: Psychokiller 8. Tom Toxic und die Holstein Rockets: Der Holstein Rockets Rock 9. Deepsix: 1000 Death 10. Diary Of Sinners: Psychobilly Freak 11. P.O.X.: Little Red Riding Hood 12. Wyldfire: Born To Rock 13. Chip Hanna & the Berlin Three: Beetle Boot 14. Silvershine: Nowadays 15. Tennessee Menace: Daynight Rock 16. Messerstecher Herzensbrecher: Geboren Als Psycho 17. Built 4 Speed: Back Again 18. Nigel Lewis and the Zorchmen: Itchy Feelings 19. Rich Taste: Devils Train Ready 20. Mad Sin: Syndicate Deluxe 21. Cenobites: Blue Fandango 22. Hellseeds: Last Dance 23. Flanders: On Your Way 24. Klingonz: Crabs 25. Horror Pops: Heading For The Disco? 26. outro
&nbsp [0 critique]