Compilation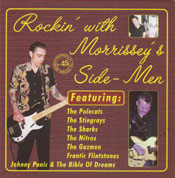 "ROCKIN WITH MORRISSEY'S SIDE MEN"
Anagram Rcds | 18 titres | 2006 | Psychobilly
Critique : The SMITHS étaient l'un des groupes phares de la New-Wave/Pop anglaise des 80's. Lorsque le chanteur, MORRISSEY, lance sa carrière solo, il s'entoure de musiciens qui viennent pour la plupart de la scène Psycho et Neo-Rockabilly: Boz Boorer (POLECATS, DELTAS ...), Gary Day (FRANTIC FLINTSTONES, SHARKS, GAZMEN ...), Alan Whytes (MEMPHIS SINNERS, SHARKS ...), Johnny Bridgewood (FIREBALL XL5, STING-RAYS ...).
Cette compilation, à saveur Psychobilly soft / Neo-Rockabilly, regroupe donc certains de ces groupes. Pas d'inédites, mais quelques titres rares en CD comme le 1er EP des POLECATS, 2 titres du maxi "JUNE RHYME" des STING-RAYS (dont l'excellente "WEDDING RING"!) ou encore les 4 titres du maxi des GAZMEN.
Liste des titres: 1.Polecats: Rockabilly Guy 2. Chicken Shack 3. Frantic Flintstones: Lunatics Are Ravin' 4. Love for a Nutter 5. Sharks: Hooker 6. Scratchin' My Way Out 7. Surfcaster 8. My Neighbour's Garden 9. Stringrays: June Rhyme 10. Wedding Ring 11. The Gazmen: Rigormortise Rock 12. Kid from Mars 13. Teenage Operation 14. Ace of Hearts 15. Colbert Hamilton and Nitros: 99 Girls 16. Panic, Johnny and The Bible Of Dreams: Not Bitter, But Bored 17. Stay with Me 18. Paranoia
&nbsp [0 critique]