Compilation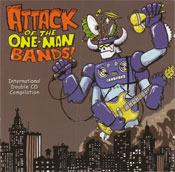 "ATTACK OF THE ONE-MAN BANDS"
Rock'n'Roll Purgatory | 58 titres | 2008 | Garage
Critique : Double CD réunissant près de 60 One-Man Bands (dont quelques rares One-Woman-Bands, d'ailleurs) du monde entier: une majorité vient des USA, mais on trouve aussi pas mal de français (Mr. BONZ, SHERIFF PERKINS, ...), de canadiens (BLOODSHOT BILL, ...) et d'autres venant d'Australie, Suisse, etc.
The HAZE a fait des émules, et ses émules font du bruit! Du Rockabilly sombre jusqu'au Garage le plus trashy en passant par le 60's Trash, cette compilation préparée par RnR Purgatory est une véritable mine d'or et -malgré quelques rares déchets, comme the AMAZING ELEPHANT MAN- elle regorge de morceaux de choix, tels ceux de B.B.Q., Mr. BONZ, REVEREND BEAT-MEN ou encore AL FOUL.
Liste des titres: CD 1 - 1. Al Foul: I Know I'm Gonna Die Tonight (But I Don't Care) 2. Bloodshot Bill: Been Tellin' Lies 3. Phillip Roebuck: Jackass Blues 4. Rollie Tussing: Milwaukee Blues 5. Lonesome Joseph: If You Love Me 6. Slim Sandy: You Can't Fool Me [Live] 7. King Louie: Walkin' and A-Steppin' in the Fire 8. "Haunted" George: Howlin' 9. Sachtrash: Stay out and Down 10. Fredovitch One Man Band: Troublin' Time 11. 1Man Banjo: Mole 12. Toothless George: I Fuckin' Suck (In G Maj.) 13. Royer's One Man Band: Train on the Island 14. Dead Elvis & The One Man Grave: Long Gone, Dead and Done 15. Mr. Bonz One Man Band: Wild Party 16. Chuck Violence: Introducing Chuck Violence 17. Dennis Hopper Choppers: Lust 18. Bram Riddlebarger & His Lonesome Band: Rhythm & Soul 19. Trainwreck Washington: Walked All Night 20. Ghostwriters: Preacher's Daughter 21. Esmerelda Strange: Que Viva La Chava 22. J. Marinelli: Lying in State 23. Big One Man Band: Too Much Bad in My Blood (To Be Good) 24. Long Boy Larsen: When You're Far Away 25. Mississippi Grover: I'm Buried Alive 26. Twang Tango: Drinking Every Night 27. Slow Poisoners: Purgatory Rock 28. Stringybark McDowell: Kyleeee
CD 2 - 29. BBQ: Hang On 30. Jeffrey Novak: Nothing to Do 31. El Paso Hot Button: Snake Boy Lives in the Mississippi 32. Skip Jensen & His Shakin' Feet: Abscond 33. Guitar Fucker: Fuck Me I'm Poor 34. Reverend Beat-Man & the Un-Believers: Bloddy Fucking Cunt 35. John Schooley: Rock N' Roll Party with the One Man Band 36. Fabulous Go-Go Boy From Alabama: You Got to Love 37. King Automatic: I Don't Give a Fuck 38. Ottoboy The One Man Trash Band: Lo Ride 39. Reverend J. Brennan: The Lord Told Me You Got Fat 40. Feeling Of Love: Revenge 41. Urban Junior: Music for the Asses 42. Limbs: Bad Anna 43. Uncle Butcher: No Judge, No Trial 44. Junior Disorder: Angry Heart 45. Sheriff Perkins: Black Bowtie 46. Scott H. Biram: Plow You Under 47. Margaret Doll Rod: Who's Gonna Rub Me? 48. Almighty Do Me A Favor: You're Wrong 49. Lone Bird: Business 50. Pete Yorko & The One Man Music Band: Like Me 51. Johnny Lowebow: Little Darling 52. Reverend Deadeye: Hellfire Down 53. Rocket Craig: Alien Novelty Song 54. Mosquito Bandito: Laser Beams 55. O Lendario Chucrobillyman: Guitarra Míssil 56. Amazing Elephant Man: Can't Go Outside 57. One Hand Man: So Alone 58. Johnny Cancer: Do Your Own Thing
&nbsp [0 critique]