Compilation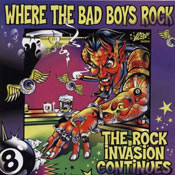 "WHERE THE BAD BOYS ROCK vol.2"
People Like You Rcds | 32 titres | 2003 | Speedrock
Critique : Sortie en double CD, la compile du label allemand Punk-Rock: "I Used To Fuck People Like You In Prison Rcds". Forcemment ça sonne très Punk, mais les groupes présents sont généralement très bons. Maximum RnR !
Les titres de MAD SIN, HEARTBREAK ENGINES et des CELTIC BONES (entre autres ...) sont inédits.
[ MAD SIN / DAMNATION / SPITTS / 69-HARD / DISCONTENT / REVOLVERS / AMERICAN HEARTBREAK / BONES / SARTANA / V8 WANKERS / ADAM WEST / GENERATORS / ACCIDENTS / RICKSHAW / DISCO VOLANTE / HEARTACHES / HEARTBREAK ENGINES / FRANKENSTEIN DRAG QUEEN / TEXAS TERRI / FORGOTTEN / SQUAD 21 / VENEREA / SIXES and SEVENS / SWINDLE A GO-GO / BLOODJUNKIES / TRASH CAN DARLINGS / SPOOK / DUANE PETERS / METEORS / CELTIC BONES / DAYBREAK BOYS / JOE COFFEE ]
&nbsp [0 critique]