TALL BOYS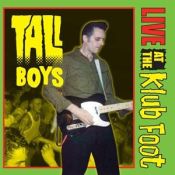 "Live At The Klub Foot"
Trophy Rcds | 10 titres | 2011 | Garage
Critique : La prestation mythique des TALL BOYS lors de l'enregistrement du "Stomping At The Klub Foot vol.2" parfaitement remixée par Alan Wilson. Un peu court (10 titres uniquement), mais vous y retrouverez l'ensemble des meilleurs titres du groupe ("Last House On The Left", "Final Kick" ou encore "Brand New Gun", par exemple) le tout avec un excellent son et une très bonne énergie. Splendide CD!
Liste des titres: 1. Introduction 2. Dragster 3. Last House On The Left 4. Brand New Gun 5. Funtime 7. Final Kick 8. Ride This Torpedo 9. Action Woman 10. Through A Glass 11. Rock 'N' Roll Party
&nbsp [0 critique]