STRAY CATS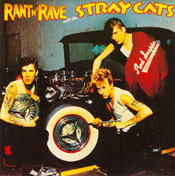 "Ran't n'Rave With The Stray Cats"
Arista | 10 titres | 1983 | Neo-Rockabilly
Critique : De "REBELS RULE" à "SOMETHING'S WRONG WITH MY RADIO", une nouvelle fois des morceaux d'anthologie.
Cet album est toutefois beaucoup plus varié (et inégal) que les précédents, comme en témoignent "LOOK AT THAT CADILLAC" (les prémisses du BRIAN SETZER ORCHESTRA?), ou le sirupeux "I WON'T STAND IN YOUR WAY".
Liste des titres: 1. Rebels Rule 2. Too Hip, Gotta Go 3. Look At The Cadillac 4. Something's Wrong With My Radio 5. 18 Miles To Memphis 6. (She's) Sexy And 17 7. Dig Dirty Doggy 8. I Won't Stand In Your Way 9. Hotrod Gang 10. How Long You Wanna Live Anyway
&nbsp [0 critique]