STING RAYS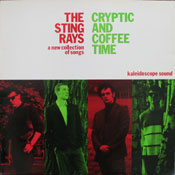 "Cryptic And Coffe Time"
Kaleidoscope Sound | 14 titres | 1987 | Garage
Critique : Dernier album studio du groupe qui, comme l'avait annoncé le maxi "BEHIND THE BEYOND", est bien en dessous de ce qu'on pouvait attendre des STING RAYS. On a l'impression d'un groupe qui joue autre chose que ce pour quoi il est fait. Il reste quelques expérimentations, mais l'énergie et la fougue ont disparu. Le public également.
Aucun titre de cet album ne figurera sur le Best Of CD que sortira Big Beat en 2002.
Liste des titres: 1. Behind The Beyond 2. Hopelessness Of The Human Race 3. Dont Seel Yourself Short 4. Bitterness 5. The Big Lie 6. Through The Dawn 7. Reason Nor Rhyme 8. The Burden Of Dreams 9. Tear Them Down 10. Love Of A Kind 11. The Big Tide Will Turn 12. Middle Age Spreads 13. I'm Growing Old 14. All These Years
&nbsp [0 critique]