SEXAREENOS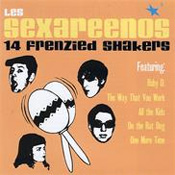 "14 Frenzied Shakers"
Sympathy For The Records Industry | 16 titres | 2001 | Garage
Critique : Sur CD ou vinyle, 16 titres (et non 14 comme le laissait supposer le titre) d'un RnR-Garage 60's toujours très inspirés par les SONICS. Classique, mais spontané: ça fonctionne toujours autant...
Liste des titres: 1. Ruby D. 2. We Gonna Ball 3. Don't You Know Yokomo 4. All the Kids 5. Oh Mom (Teach Me How to Uncle Willie) 6. Don't Need You No More 7. On My Own 8. Girl 9. My Baby Keeps Me Up All Night 10. Put Out 11. Do the Rat Dog 12. Go on Home 13. Ring Dang Doo 14. One More Time 15. The Way That You Work 16. Where Are You Now?
&nbsp [0 critique]