RUSTY ROBOTS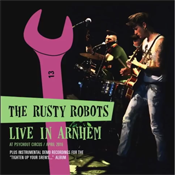 "Live In Arnhem / Instrumental Demo Recordings"
Autoproduit | 31 titres | 2016 | Psychobilly
Critique : Réalisé à 100 exemplaires lors de la sortie du 2ndalbum du groupe, ce CD accompagnait les premières pré-ventes de "Tighten Your Screws...". Les 16 premiers titres sont enregistrés en live : Très bon son et bonne énergie, et on y retrouve des titres des 2 premiers albums et de leurs EPs. Superbes versions de "Spider In My Bed" ou de "Crazy Spaceman" notamment.
La suite, moins essentielle, est constituée des 15 titres du 2nd album, "Tighten Your Screws And Dance To The RUSTY ROBOTS" en pre-prod, c'est-à-dire enregistrés en répet et en versions instrumentales.
Liste des titres: 1. Live In Arnhem: intro (waiting For Paddy) 2. R2-D2 3. Don't Go 4. Theraphosa 5. Spiders In My Bed 6. Wooden Leg 7. Vampire For Your Love 8. United Kids Are Strong 9. Crazy Spaceman 10. The Journey To The Center Of The Earth 11. Dinosaur 12. She's A Viper 13. break (for a funny game) 14. Go Psycho! 15 The Lonesome Midnight Rider 16. A Forest 17. Paranoia
18. Instrumental Demo Recordings: The Lonesome Midnight Rider 19. Robots Are Go 20. The Journey To The Center Of The Earth 21. You Scream 22. She'S A Viper 23. United Kids Are Strong 24. Spiders In My Bed 25. Crazy Spaceman 26. Robot In Love 27. Little Ghoul 28. Wishing You'd Be Dead 29. Go Psycho! 30. Vampire For Your Love 31. It's Summer 32. Paranoia
&nbsp [0 critique]