ROCHEE and the SARNOS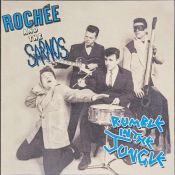 "Rumble In The Jungle (Reedition)"
Crazy Love Rcds | 2 titres | 2021 | Neo-Rockabilly
Critique : Les 2 titres de la face A correspondent au EP original sorti en 1985. En face B, 2 titres mythiques que le groupe avait sortis sur des compilations elles-aussi mythiques: "Hell's Bent On Rockin'" (Nervous Records) et "Psycho Attack Over Europe!" (Kix 4 U Records).
Bref, une très belle réédition augmentée du second EP du groupe, entre early-Psychobilly et Cheap-Rockabilly, le tout sur 7" en vinyle coloré.
Liste des titres: 1. Rumble In The Jungle 2. Whistle Wiggle 3. Rock And Roll Frog 1. Crazy Sarno
&nbsp [0 critique]