RESTLESS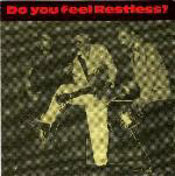 "Do You Feel Restless ? - CD"
Nervous Rcds | 15 titres | 1989 | Neo-Rockabilly
Critique : Réédition CD de l'album qui, bien qu'il soit dans la lignée de "WHY DON'T YOU.. JUST ROCK?" s'approche parfois du Psychobilly avec notamment des titres comme "CRACK UP'N'FALL TO PIECES" ou "PRISONER OF LOVE".
Cette version CD, avec une nouvelle pochette bien moins belle que l'originale, contient 3 bonus tracks, qu'on peut retrouver avec des versions différentes mais similaires sur l'album "THE EARLY YEARS": "EDGE ON YOU", "SLIDIN' ON DOWN THE HILL" et "WHY DIDN'T I STAY AT HOME?".
Liste des titres: 1. Bottle On The Beach 2. Here I Am 3. Fool's Gold 4. Down At The Swamp 5. Alabama Jailhouse 6. Prisoner Of Love 7. Sob Story 8. Crack Up 'n' Fall To Peaces 9. 16 Tons 10. Baby Please Don't Go 11. Here I Am (dub version) 12. Sweet Surprise 13. Edge On You 14. Slidin' On Down The Hill 15. Why Didn't I Stay At Home?
&nbsp [0 critique]