NIGEL LEWIS and the ZORCHMEN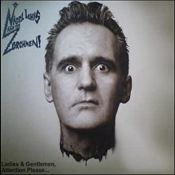 "Ladies And Gentlemen, Attention Please... "
Drunkabilly Rcds | 33 titres | 2008 | Psychobilly
Critique : L'album du retour de Nigel! Initialement, Drunkabilly Records l'avait sorti en version double-CD avec un magnifique Live qui reprenait des titres de ses débuts (METEORS, TALL BOYS, ESCALATORS, etc.) mais il existe également cette version en CD simple, présentation cardboard.
Un album intime (techniquement sans les ZORCHMEN d'ailleurs) et puissant.
Liste des titres: 1. Ladies & Gentlemen, Attention Please... 2. I Wanna Be Someone 3. Footsteps 4. Ride 5. Sweet Pandora and Me 6. Hotel Room in New Orleans 7. Walking on the Beach 8. Destination Blue 9. The Demon and the Angel 10. Rockabilly 11. Itchy Feelings
&nbsp [0 critique]