NEKROMANTIX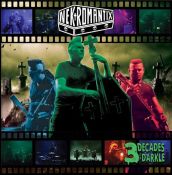 "3 Decades Of Darkle"
Cleopatra Rcds | 19 titres | 2019 | Psychobilly
Critique : Tous les albums du groupes sont représentés: 1 titre pour "Hellhound", "Dead Girls Don't Cry", "Life Is A Grave...", "What Happens In Hell..." et "Wolf Tones And Ghost Notes"; 2 tires pour "Curse Of The Coffin ", 3 pour "Brought Back To Life", 4 pour "Demons Are A Girl's Best friend" et, grand gagnant, 5 titres sont issus de "Return Of The Loving Dead", dont la superbe "Nice Day For A Resurrection",véritable point d'orgue de ce live.
Très bon son et excellente prestation générale du groupe: Kim Nekroman, comme à son habitude, fait tout un show! On retrouve à la guitare et aux chœurs Francisco Mesa qui est dans les NEKROMANTIX depuis les 3 derniers albums studio, et un petit nouveau à la batterie, René de la Muerte, actuel leader des BRAINS qui officie avec talent sur un stand-up drums.
Bref, un très bon live, vif et bien représentatif de l'ensemble de la carrière du groupe.
Liste des titres: 1. Struck By A Wrecking Ball 2. Nightnurse 3. Alice In Psycholand 4. Brain Error 5. Demons Are A Girl's Best Friend 6. Driller Killer 7. Nekrotastic Extacy 8. See The Devil Smile 9. Nekrofelia 10. Gargoyles Over Copenhagen 11. Subcultural Girl 12. Sea Of Red 13. Glow In The Dark 14. Brought Back To Life 15. Horny In A Hearse 16. Nice Day For A Resurrection 17. Alive 18. Haunted Cathouse 19. Who Killed The Cheerleader
&nbsp [0 critique]