MYSTERY TRAIN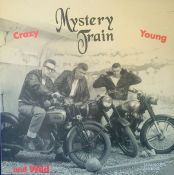 "Crazy, Young And Wild"
Eagle Rcds | 14 titres | 1995 | Neo-Rockabilly
Critique : Un second album qui renforce l'impression schizophrénique que "Cheers Cheers Rock & Roll" nous avait laissée: le côté Rockabilly plus traditionnel tirant parfois vers le R&R/Jive des titres chantés par Hervé Loison et le côté plus Neo des titres chantés par P. Novak (voir l'excellente "Dark Streets Of London").
Une nouvelle fois, le tout est très réussi et l'album est sorti en CD ainsi qu'en vinyle.
À noter: Jack Fire (WILD ONES, etc.) est invité à tenir la contrebasse sur un titre, la reprise de "Born To Be Wild".
Liste des titres: 1. Drives Up To The Moon! 2. Crazy, Wild And Beautiful 3. Little Rocker 4. Everybody Rockin' Blues 5. Things You Do To Me 6. Look At The Sky 7. In The Dark 8. Baby Mean 9. Frankenstein Hop (instr.) 10. Born To Be Wild 11. Lonesome Tracks 12. Dixie Hobo Bop 13. Dark Streets Of London 14. Motorcycle Girl
&nbsp [0 critique]