MONSTERS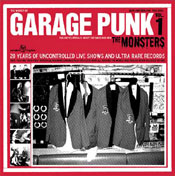 "Garage Punk vol1 - The Worst Of The Monsters"
Voodoo Rhythm Rcds | 29 titres | 2006 | Garage
Critique : Album sous-titré "20 Years Of Uncontrolled Live Show And Ultra Rare Records".
The MONSTERS célèbrent leurs 20 ans d'existence avec ce double LP composé majoritairement de titres live ou enregistrés en répetition, plus quelques chansons sorties sur des compils ou des EP. Plus des 3/4 des titres étaient inédits à ce jour: ça nous vaut quelques excellents titres comme "HOLD ME HUG ME", "DON'T BURN THE WITCH" (du 1er EP) ou encore la superbe "WATCHA GONNA DO", mais aussi beaucoup de bruit et de fureur. Les fans apprécieront, d'autant que la présentation est splendide.
Liste des titres: LP 1 - 1. Intro 2. The Love I Never Had (live) 3. Baby I love You (repet) 4. I Got The Brain Up My ass (live) 5. Wild Thing 6.High Heels (live) 7.Teenage Werewolf (live) 8. Gates Of Hell (repet) 9. Dead End Street (live) 10. Hold Me Hug Me 11. Dead Song For Bela (repet) 12. Psycho Trip (repet) 13. Blues For Joe 14. Monster Rock 15. Don't Burn The Witch 16. Fuck My Brain Buddh Buddah (live) LP 2- 17. Lonesome Town (live) 18. Burn My Mind (live) 19. Never Come Back (live) 20. Out Of My Live (repet) 21. Rosemary Mc Coy 22. Nightmares 23. Watcha Gonna Do (live) 24. Searching (live) 25. Oh Wrong (live) 26. Voodoo Love (demo) 27. Züri Brönnt (live) 28. Wanna Be Like I Wanna Be 29. Schraubenzieher 30. Fuck My Brain (live)
&nbsp [0 critique]