MINESTOMPERS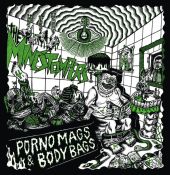 "Porno Mags & Body Bags"
Crazy Love Rcds | 13 titres | 2019 | Heavy-Psycho
Critique : 2e album très solide pour ce trio de Cologne* qui joue un Psychobilly appuyé, avec basse électrique et voix grasse éraillée en avant. Ça fonctionne toujours aussi bien, d'autant plus que la production est parfaite. Les compos soutenues par des musiciens très au point et un chant hargneux vont d'un Psychobilly old-school façon Early-COFFIN NAILS (comme sur "Porno Mags" leur ripp-off de "Brand New Cadillac") jusqu'à un Punkabilly beaucoup plus contemporain et les vocaux engagés vont même jusqu'à rappeler le Garage sale des MONSTERS sur "Demon Up My Arse" notamment.
À noter l'excellente version de "Cop Killer" de BODY COUNT, un titre déjà repris par the PAGAN DEAD et the TONY MONTANAS.

*See what I did?
Liste des titres: 1. Shellac Smile 2. Bone Breaking Beat 3. Vinyl Wonderland 4. Whirlwind 5. Attack Of The Space Sluts From Planet C.U.N.T. 6 6. Porno Mags 7. Pogo The Clown 8. Unleashed 9. Copkiller 10. Demon Up My Arse 11. Suburban Savages 12. For A Fistful Of Schlonz 13. One Last Record
&nbsp [0 critique]