METEORS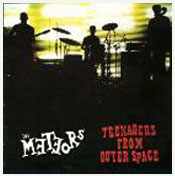 "Teenagers From Outerspace"
Big Beat Rcds | 14 titres | 1986 | Psychobilly
Critique : Compilation de morceaux enregistrés entre 81 et 86 (les différents EP + 2 live, 1 inédite et un titre du EP des CLAPHAM SOUTH ELEVATORS).
On continue donc sur le même rythme que "IN HEAVEN", FENECH et LEWIS se partageant le chant. Plusieurs standards des METEORS ("ATTACK OF THE ZORCH MEN", "GRAVEYARD STOMP", "VOODOO RHYTHM", ... ) apparaissent sur ce LP fondateur. La pochette qui s'ouvre à la façon d'un double album propose un historique des tout-débuts du groupe, écrit par Nick Garrard, manager des METEORS.
Liste des titres: 1. Voodoo Rhythm 2. Maniac Rockers From Hell 3. My Daddy Is A Vampire 4. You Can't Keep A Good Man Down 5. Graveyard Stomp 6. Radioactiv Kid 7. Leave Me Alone 8. Dog Eat Robot 9. Walter Mitty Blues 10. Just The 3 Of Us 11. Blue Sunshine 12. Insight (live) 13. Attack Of The Zorch Men (live) 14. Jupiter Stroll
&nbsp [0 critique]