METEORS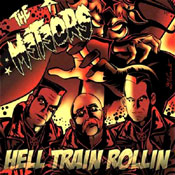 "Hell Train Rollin"
I Used To Fuck People Like You In Prison Rcds | 14 titres | 2009 | Psychobilly
Critique : 4e album sur People Like You Rcds, et, finalement un album qui reste bien dans le ton des précédents. Bonnes compos (depuis les catchy "NEVER STOP THE HATE TRAIN" et "CREEPY", jusqu'à leur auto-reprise cachée de "AIN'T GONNA BRING ME DOWN", en passant par le Rockabilly "DEVILBONE"), voix erraillée en avant, excellentes guitares, et très bonne contrebasse qui trouve enfin toute sa place. 2009? Un très bon millésime.
Pochette et booklet illustrés par David Vicente.
Liste des titres: 1.Never Stop The Hate Train 2. Down And Dirty 3. Another Day On Fire 4. Devilbone 5. This Town 6. 4LB Hammer 7. (They Call Me) Creepy 8. If Thats The Way You Want It v9. The Old Man Down The Road 10. Slice By Slice 11. Pure Evil 12. Surfin Home On A Dead Girl 13. Psychobilly Number 1 14. bonus: Ain't Gonna Bring Me Down bonus vidéo: (They Call Me) Creepy
&nbsp [0 critique]