METEORS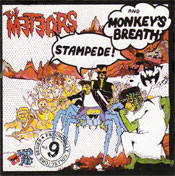 "Stampede / Monkey Breath"
Anagram Rcds | 22 titres | 1989 | Psychobilly
Critique : Les 2 premiers albums de la période Anagram des METEORS sur un seul et même CD: une bonne occasion pour retrouver "I'M JUST A DOG", "RHYTHM OF THE BELL", "AIN'T GONNA BRING ME DOWN" ou encore "MICHAEL MYERS".
4 titres de vinyls n'apparaissent pas sur cette version CD.
CD réédité par la suite en 1995.
Liste des titres: 1. Ex Men Boogie - Power of Steel 2. Hoover Rock 3. Kit Boy 4. Eat the Baby 5. Electro 6. Stampede 7. I'm Just a Dog 8. In Too Deep 9. Cecil Drives a Combine Harvester 10. Michael Myers 11. Only a Fury in My Heart 12. Hogs and Cuties 13. Alligator Man 14. Rhythm of the Bell 15. Out of Time 16. Ain't Gonna Bring Me Down 17. Night of the Werewolf 18. Take a Ride 9. Just the Three of Us 20. Meat Is Meat 21. Joba's Revenge
&nbsp [0 critique]