MAD SIN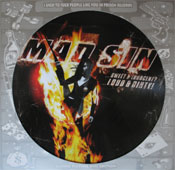 "...Sweet And Innocent? ...Loud And Dirty! (picture disc)"
I Used To Fuck People Like You In Prison Rcds | 19 titres | 2004 | Heavy-Psycho
Critique : 3e réédition d'un des albums phares du groupe, en superbe vinyl picture disc cette fois-ci, et avec de nouveaux bonus.
Édition limitée à 600 exemplaires.
Liste des titres: 1. Sin City Calling 2. Mad To The Bone 3. All This & More 4. Scarred Ole' Heart 5. Dead Men Tell No Tales 6. Paralyzed 7. Take a Ride 8. Costa Del Hell 9. Tumblin' Down 10. Russian Roulette 11. Club Sin-A-Gogo 12. Love Dictator (bonus) 13. Overdose affair 14. Behind the Facade 15. Interceptor 16. Moustache 17.El Cativo (bonus) 18. No More Trick Or Treat (bonus) 19. Misplaced (bonus)
&nbsp [0 critique]