MAD SIN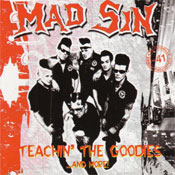 "Teachin' The Goodies... And More!"
Anagram Rcds | 11 titres | 2006 | Psychobilly
Critique : Réédition de l'excellent "TEACHIN' THE GOODIES" avec 4 titres bonus: 1 inédit récent ("ROCK AGAINST ASS") et 3 titres tirées de la 2nde édition de "AMPHOGORY" (qui date déjà de 1996!) dont la reprise poussive de "HUMAN FLY".
Bref, pas grand chose de plus que le "TEACHIN' THE GOODIES" original finalement. On attend toujours la leçon n°2...
Liste des titres: 1. I Shot the Sheriff 2. Saturday Night 3. Rock Against Ass 4. London Dungeon 5. Psyclops Carnival 6. Ride This Torpedo 7. Let's Fuck 8. Fuck the World 9. Mind Blow 10. Eat Yourself 11. Human Fly
&nbsp [0 critique]