MAD SIN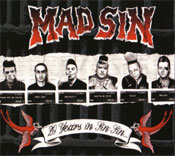 "20 Years Of Sin Sin"
I Used To Fuck People Like You In Prison Rcds | 32 titres | 2007 | Heavy-Psycho
Critique : Pour leur 20e anniversaire, MAD SIN a décidé de faire les choses en grand: un double CD avec, sur le 1er disque, 5 nouvelles chansons, des titres inédits ou rares et quelques chansons issues de "GOD SAVE THE SIN" et "TEACHING THE GOODIES".
Le second CD propose un live enregistré à Hollywood en 2006: Exceptionnel! On est bien loin de la parodie du concert au Japon, même s'ils ont en commun de nombreuses chansons. Ici, le son est réellement énorme, la prestation et la puissance du groupe sont très impressionnantes, de même que la participation du public. Bref, le voila l'album Live qu'on attendait de MAD SIN.
En bonus video, 2 très bons titres filmés au festival "Force Attack" en Allemagne.
Liste des titres: CD 1 Studio: 1. Sindicate Deluxe 2. Rusty Nails 3. Pigfarm 4. 50 Miles To Nowhere 5. Lullaby 6. F.T.W. I Said One Day... 7. Ich Kann Nicht Schlafen 8. Dirty City 9. Psyclope Carnival 10. Ride This Torpedo 11. Crack In The Box 12. Secret Plan 13. Viva Le Rock 14. Blindspot '87 (Bonus digipack) CD 2 Live in Hollywood: 15. Intro 16. Scarred Ol' Heart 17. 1000 Eyes 18. Outta My Head 19. Speak No Evil 20. Nothing's Allright 21. Sell Your Soul 22. Communication Breakdown 23. Dead Moon 24. Fuel For Brains 25. Sin Is The Law 26. All This And More 27. I Shot The Sheriff 28. To Walk The Night 29. Meat Train At Midnight 30. Psychotic Night 31. I Shot The Sheriff (Bonus video) 32. Meat Train At Midnight (Bonus video)
&nbsp [0 critique]