MAD MARGE and the STONECUTTERS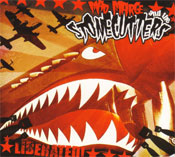 "Liberated!"
I Used To Fuck People Like You In Prison Rcds | 11 titres | 2007 | Psychobilly
Critique : Un 2e album de Psychobilly mélodique, vif et très actuel, dans la lignée du précédent. On y retrouve en effet les mêmes principaux ingrédients: des rythmiques très Punk-Rock, un bon chant féminin (aux accents parfois gothiques, parfois Gwen-Stefaniens), des refrains Pop, et surtout d'excellents musiciens.
Liste des titres: 1. No Looking Back 2. Issues 3. Sickness 4. In The Name Of 5. Dial Z For Zombie 6. Hardest Thing 7. Walk Away 8. Liberation 9. A Shadow 10. Don't Put Up A Fight 11. Drove Me Mad
&nbsp [0 critique]