KINGS OF HONG KONG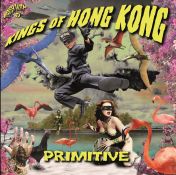 "Primitive"
Trash Wax | 14 titres | 2019 | Garage
Critique : Magnifique pochette pour illustrer ce très bon 2e album du groupe! On retrouve le mix Psychobilly/Garage propre au groupe, avec un dosage parfait qui donne aux KINGS OF HONG KONG toute leur originalité et toute leur personnalité.
Les rythmes sont impeccables, beaucoup de soin a été apporté à la production et les mélodies, à l'instar de "Hell Yeah" ou "Little Lil" devraient vous trotter dans la tête. Superbe album!
Liste des titres: 1. Primitive 2. Little Lil 3. Voodoo Queen 4. Hell Yeah 5. Retro Kid 6. Ancient Land 7. The Zigster 8. Motorpsycho 9. Headhunter 10. Sea Of Broken Hearts 11. Good Guys 12. Weirdo 13. Dirtbomb 14. Burgandy Shirt
&nbsp [0 critique]