KIM LENZ and the JAGUARS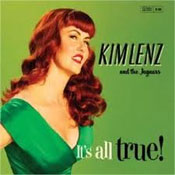 "It's All True!"
Riley Rcds | 12 titres | 2009 | Rockabilly
Critique : Bon Rockabilly authentique en provenance de Dallas: d'excellents musiciens, une guitare légèrement saturée -un peu à la CARLOS & the BANDIDOS ou GO GETTERS- et un chant féminin. Honnêtement, j'ai eu du mal avec la première chanson où Kim LENZ en fait parfois un peu trop et où son chant quasi-hystérique et très maniéré s'accorde mal avec la chanson. Par la suite, le groupe semble trouver son rythme, et ces 12 compositions plutôt classiques restent très agréables.
Mentions spéciales pour "ZOMBIE FOR YOUR LOVE" et "SHINED UP AND READY TO SHOUT".
Liste des titres: 1. Touch Me 2. That's the Breaks 3. Zombie for Your Love 4. Ramblin' Feeling 5. Chocolate Eyes 6. I'll Tell You When 7. He's All Mine 8. Speed Limit 9. Know-It-All 10. I Break a Heart Every Night 11. Burning Rubber 12. Shined Up and Ready to Shout
&nbsp [0 critique]