JUVIES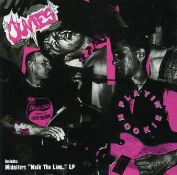 "Walk The Line / Playin Hookie album (w/ the MIDNITERS)"
Crazy Love Rcds | 20 titres | 2007 | Neo-Rockabilly
Critique : En 2007, Crazy Love Records réédite 2 albums de Neo-Rockabilly qui étaient sortis en Angleterre en 1989: tout d'abord the MIDNITERS et leur 2nd album très solide aux sonorités Rock et Bluesy affirmées. Puis l'unique album des JUVIES, qui jouent un Neo-Rockabilly musclé et également très inspiré.
Bref, 2 groupes avec une forte personnalité réunis pour la première fois sur CD.
Liste des titres: The MIDNITERS "Walk The Line": 1. Midnight 2. I Can't Wait 3. When The Times Are Hard 4. Are You Ready To Rock 5. Walk The Line 6. Please Don't Touch 7. Ball And Chain 8. Blue 9. Some You Win, Some You Lose 10. Time After Time
The JUVIES "Playin' Hookie": 11. Blackboard Jungle 12. Alligator Shoes 13. No Way Out 14. Breakin' It Up 15. Gotta Run 16. Playin' Hookie 17. Jukebox Jill 18. Sunset This Morning 19. On The Road 20. Into The Fire
&nbsp [0 critique]