JUKEEZ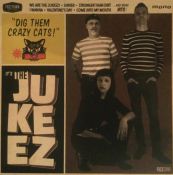 "Dig Them Crazy Cats!"
Fuzztown Rcds | 12 titres | 2019 | Garage
Critique : 60s Garage en provenance de Montréal. BILLY CHILDISH n'est jamais bien loin (voir leur reprise de "Come Into My Mouth" des HEADCOATEES), la scène 60s Trash des "Peebles" et autres "Back From The Grave" non plus! Dans la grande traditions des 60s, plusieurs titres sont des reprises aux paroles modifiées ("I Want My Caveman" pour "I Want My Woman", ou "D.I.L.D.O' pour "Gloria").
Simple, efficace, sexy et authentique!
Liste des titres: 1. We Are The Jukeez 2. Psycho 3. Stronger Than Dirt 4. Shiver 5. I Wanna 6. Come Into My Mouth 7. Valentine's Day 8. I Wasn't Made For This World 9. Shut Up 10. I Want My Caveman 11. The Cat Came Back 12. D.I.L.D.O.
&nbsp [0 critique]