JOHNNY JOKER and the TWILIGHT KIDS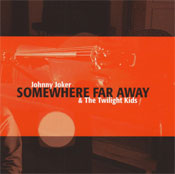 "Somewhere Far Away"
Crazy Love Rcds | 13 titres | 2007 | Neo-Rockabilly
Critique : Brillant album avec des mélodies réellement originales et accrocheuses, comme "NEVER COMING BACK" ou l'excellente "HURRICANE BABY". Si le groupe s'appuie sur une base Neo-Rockabilly (le groupe évolue en trio: batterie - guitare - chant/contrebasse), les influences semblent beaucoup plus larges et, que ce soit sur les morceaux plus calmes, comme "LOOK BEHIND", ou ceux plus énervés comme "WILL YOU", JOHNNY JOKER and the TWILIGHT KIDS a su développer une ambiance très personnelle.
Un groupe à part, qui ne ressemble à rien d'autre, à découvrir d'urgence!
Liste des titres: 1. Hurricane Baby 2. Twilight Zone 3. Never Coming Back 4. Somewhere Far Away 5. Rambling Days 6. Sin City Sinner 7. Will You 8. Walking Throught The Corridor 9. Look Behind 10. Bad Day 11. Holiday In Hell 12. Back On The Street 13. Way Back Home
&nbsp [0 critique]