FRENZY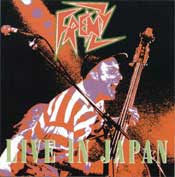 "Live In Japan"
Raucous Rcds | 15 titres | 1993 | Psychobilly
Critique : Dans la lignée des titres Live d'"Eastern Sun", les anciens titres côtoient les nouveaux. Le show de FRENZY est très au point, et les prouesses de Steve Whitehouse font oublier la guitare parfois trop Hardos (surtout sur les titres des 2 derniers albums, "This Is The Fire" et "Mad Mad World").
Les titres de "Clockwork Toy" sonnent très bien et rappellent l'excellent "Live At The 100 Club".
Bref, un bon concert pour découvrir le groupe (si certains hésitent encore à acheter un des autres LP), qui dure plus d'une heure et regorge d'excellentes parties de slap.
Liste des titres: 1. Nervous Breakdown 2. Clockwork Toy 3. Misdemeanour 4. Hall of Mirrors 5. I See Red 6. This is the Fire 7. CC Rider 8. Love is the Drug 9. Mad mad world 10. Brand New Gun 11. Long Gone 12. Tush 13. Robot Riot 14. It's all over now 15. Cry or die
&nbsp [0 critique]