FLATLINERS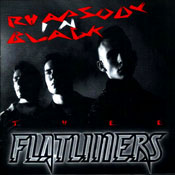 "Rhapsody In Black"
Crazy Love Rcds | 12 titres | 1996 | Psychobilly
Critique : Excellent Psychobilly, tirant très souvent vers le Neo-Rockabilly (voir "Running Out Of Time").
La contrebasse est bien présente, la guitare a un son clean, la batterie vive, le son général de l'album est bien léché, le tout est bien carré. Plusieurs chansons sonnent un peu western, ("Matter Of Time" ou "Graveyard Cowboys") et un titre, "Prisoner Of The Night", rappelle une ballade à la NEKROMANTIX.
Liste des titres: 1. Catwalk 2. Graveyard Cowboy 3. Running Out Of Time 4. Prisoner Of The Night 5. Jealous Demon 6. Matter Of Time 7. Bad Bone 8. Devil's Rise 9. Trouble Rides A Fast Car 10. Out Of Style 11. Old Gravedigger 12. Rhapsody In Black
&nbsp [0 critique]