FLAMING STARS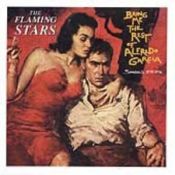 "Bring Me The Rest Of Alfredo Garcia (Singles 1995-1996)"
Vinyl Japan | 19 titres | 1997 | Garage
Critique : Cette compilation rassemble tous les premiers singles et EP et elle constitue une excellente introduction aux FLAMING STARS. En effet, en deux ans, depuis 1995, le groupe a sorti plus d'une demi-douzaine de EPs. Cet album les regroupe, ce qui en fait un excellent album bien balancé pour qui aime le Rockabilly-Garage-lounge-alternatif version Crooner low-fi du groupe.
Liste des titres: 1. Bring Me The Rest Of Alfredo Garcia 2. Money To Burn 3. Bury My Heart At Pier 13 4. Like Trash 5. Get Carter 6. New Shade Of Black 7. Ten Feet Tall 8. A Hell Of A Woman 9. The Face On The Bar Room Floor 10. Bandit Country 11. Downhill Without Brakes 12. Revenge 13. Broken Heart 14. Davy Jones' Locker 15. 3am On The Bar Room Floor 16. Kiss Tomorrow Goodbye 17. Eat Your Heart Out 18. Spaghetti Junction 19. Burnt Out Wreck Of A Man
&nbsp [0 critique]