FLAMING STARS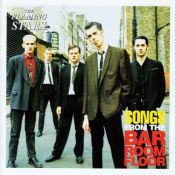 "Songs From The Bar Room Floor"
Vinyl Japan | 16 titres | 1996 | Garage
Critique : The FLAMING STARS sont un groupe britannique mené par Max Décharné, ex-drummer pour GALLON DRUNKS puis leader des EARLS OF SUAVE, au sein desquels il côtoie l'ancien guitariste des VIBES, qui le suivra dans les FLAMING STARS.
Le groupe joue un mélange entre Crooning Rockabilly, Garage 60'S et ballades sombres à la NICK CAVE & the BAD SEEDS. Ce premier album déjà bien abouti contient certaines des plus grandes chansons du groupes, telles "Kiss Tomorrow Goodbye".
Liste des titres: 1. The Face On The Bar Room Floor 2. Forget My Name 3. You Can't Lie 4. Who's Out There? 5. Burnt Out Wreck Of A Man 6. Bring Me The Rest Of Alfredo Garcia 7. Kiss Tomorrow Goodbye 8. The Ballad Of The Walking Wounded 9. Downhill Without Brakes 10. Theme From 'Dog Instruction' 11. Back Of My Mind 12. Down To You 13. Oncoming Train 14. Tubs Twist 15. Like Trash 16. 3 a.m. On The Bar Room Floor
&nbsp [0 critique]