FIFTY FOOT COMBO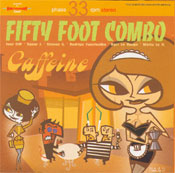 "Caffeine"
Drunkabilly Rcds | 13 titres | 2002 | Surf
Critique : Pour cet album, les FIFTY FOOT COMBO ont rajouté une bonne dose de Lounge à leur MonstroPhonic Sound. Le tout dans une ambiance très 70's, à la "Starsky & Hutch" (avant l'heure), et toujours dans une pochette digne de Shag.
Liste des titres: 1. Sugar No Cream 2. 3. The Great Caffeine Comedown 4. TripleXpresso 5. Bali Hai 6. Theme From F.A.C.T.S. 7. Dr. Hammonds Private Stash 8. Le Dimanche Matin 9. Chocolate Revenge Part II 10. Cooper 11. Gauchos 12. Black And Hot Like My Woman 13. Can I Have Some Brandy With That?
&nbsp [0 critique]