FARRELL BROS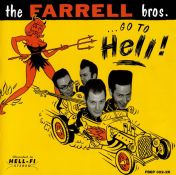 "...Go To Hell"
Autoproduit | 5 titres | 2000 | Country - CowPunk
Critique : Country hargneux et vindicatif sur ces 5 titres, peut-être le moins Rockabilly des CD du groupe, néanmoins on y retrouve d'excellents titres, comme "Devil In Disguise' dont le chant en double-voix rappelle the SHAKIN' PYRAMIDS.
Liste des titres: 1. Draggin' Me Down 2. I Saw The Light 3. Devil In Disguise 4. You'll Be Rewarded Over There 5. (I'm On The) ...Go To Hell!
&nbsp [0 critique]