FARRELL BROS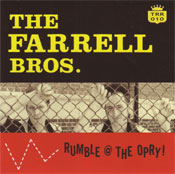 "Rumble At The Opry"
Teenage Rampage Rcds | 15 titres | 2003 | Neo-Rockabilly
Critique : Peut-être le meilleur album du groupe! En tout cas, un excellent compromis entre un son Rockabilly et des mélodies Punk-Rock à la CLASH. Quelques uns des meilleurs titres du groupe, comme "GOODBYE CHARLY" ou la sombre "SET THE LONE WOLF FREE" se retrouvent sur ce CD.
À noter la reprise de MATCHBOX, "ROCKABILLY REBEL".
Liste des titres: 1. Rumble @ The Opry 2. I Walk a Fiery Line 3. The Baddest One Around 4. Breakin' Out of Here 5. Goodbye Charlie 6. Set This Lone Wolf Free 7. Angel With a Dirty Face 8. Hangin' On 9. Curbstomp Boogie 10. Rockabilly Rebel 11. Some Things Never Die 12. Motorpsycho Girl 13. Where'd You Learn This Tune? 14. The Wild Kind 15. Outro
&nbsp [0 critique]