DOYLEY and the TWANGLORDS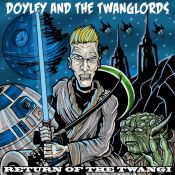 "Return Of The Twangi"
Diablo Rcds | 20 titres | 2019 | Surf
Critique : Doyley contre-attaque avec ce superbe album d'instrumentales entre Surf & Psychobilly. Une grande majorité de compositions, quelques rares reprises (comme "Joe 90" ou la nouvelle version del'"Imperial Death March") et un titre qui vient de la période KLINGONZ, "Lost In Space". Beaucoup d'inspirations variées et de diversité dans le son et les arrangements et surtout toujours énormément de talent! Que soit par son côté hispanisant ("Mariachi"), oriental ("Sitar Slinger"), KREWMENien ("Skuzzed Out"), ou bien psychédélique ("The Prisoner"), DOYLEY & the TWANGLORDS sauront vous transporter!
Bref, un album tout autant indispensable que le 1er volume, en format digital ou sur vinyle mauve transparent.
Liste des titres: 1. Prime Directive X 2. Zombies On The Underground 3. Joe 90 4. Lost In Space 5. Botz 6. Imperial Death March 7. Cybermen 8. Kicks Back 9. Collision Earth 10. Skuzzed Out 11. Grinder 12. Sitar Slinger 13. The Goblin 14. Whiskey Charles N' Snatch (Demo 94) 15. The Prisoner (Demo 94) 16. Mariachi 17. Missing Link 18. The Creep 19. One More Bite 20. Space & Time
&nbsp [0 critique]