DELIRIUM TREMENS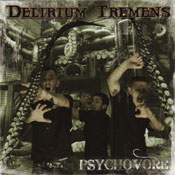 "Psychovore"
Autoprod | 12 titres | 2009 | Psychobilly
Critique : Excellent album pour ce groupe qui joue un Psychobilly moderne et inventif, sans pour autant renier les origines Billy, comme sur l'excellente "PSYCHO FROM OUTER-SPACE". Le groupe, servi par de très bons musiciens aligne des compos vraiment originales et vives, comme celle qui a donné son titre à l'album, ou encore "THE WORMS IN MY BRAIN". avec ses Yé Yé à la SHERIFF... et en final, une terrible reprise de "SUR LE PONT D'AVIGNON" punkifiée et macabre à souhait.
Une des révélations 2009, à découvrir d'urgence!!!
Liste des titres: 1. Delirium Tremens 2. Rapist Crew 3. Evil Rocker 4. Demon 555 5. Zoophilic Farmer 6. The Worms In My Brain 7. Graveyards Curse 8. Worst Girl 9. Psycho From Outer Space 10. Die Silently 11. Psychovore 12. Sur Le Pont D'Avignon 13. To Be Continued...
&nbsp [0 critique]