CRAZY CAVAN and the RHYTHM ROCKERS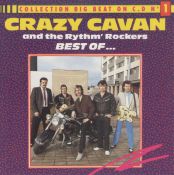 "Best Of"
Big Beat Rcds | 28 titres | 1988 | Rockabilly
Critique : Best Of sorti sur CD par le label français de Big Beat Rcds, alors que les autres albums n'existaient pas encore en CD. (En 88, on en était qu'au début de la démocratisation du CD). D'ailleurs ce CD est le premier que sortira le label.
Bref 28 titres dont, bien entendu, certains des grands classiques du groupe comme "Are You Still Crazy?", "Big Black Cadillac" ou encore "Takin' Care Of My Home". Mais comme le groupe avait déjà près d'une dizaine d'albums de sortis et plusieurs Best Of, certains des titres les plus marquants n'ont pas été repris ici, tel "Teddy Boy Boogie", "Rockabilly Rules OK" ou bien "My Little Sister's Gotta Motorbike".
Ce Best of sera réédité l'année suivante en double-album avec pochette légèrement différente.
Liste des titres: 1. Takin' Care Of My Home 2. Tear Out My Soul 3. Rollin' Throught The Night 4. Betty Lou 5. Are You Still Crazy? 6. Big Black Cadillac 7. Johnny's Gone Walking 8. I'll Be There 9. Teenage Heart 10. Do What You Do Fo Well 11. Margie 12. It's All Your Fault 13. You Went Back On Your Word 14. Isle Of Capri 15. Boogie Woogie Country Girl 16. I Forgot To Tell My Baby 17. Put The Light In The Window 18. The Rockin' Alcoholic 19. Rockabilly Star 20. Wildest Cat In Town 21. Hey Teenager 22. Don't Mess With My Day Off 23. I Stood Me Up 24. Love Ran Out On You 25. Here Come That Train 26. She's My Lovin' Baby 27. Bye Bye Baby Blues 28. Alligator Shoes
&nbsp [0 critique]