CRAMPS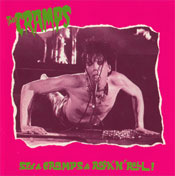 "Sex & Cramps & Rock'n'Roll"
Swingin' Pig Rcds | 22 titres | 1986 | Garage
Critique : Double album enregistré en Suisse à Zurich. Beaucoup de titres de "A DATE WITH ELVIS", et puis les vieux classiques : "THE MOST EXALTED POTENTATE OF LOVE", "TV SET", "HUMAN FLY", ... Son correct.
Liste des titres: CD1: 1. Heartbreak Hotel 2. Chicken 3. How Far Can Too Far Go 4. The Hot Pearl Snatch 5. People Ain't No Good 6. Cornfed Dames 7. What's Inside A Girl 8. Blue Moon Baby 9. Georgia Lee Brown 10. Lonesome Town 11. Do The Clam 12. Aloha From Hell 13. (Hot Pool Of) Woman Need
CD2: 1. Love Me / The Most Exalted Potentate Of Love 2. You Got Good Taste 3. TV Set 4. Can Your Pussy Do The Dog 5. Surfin'Bird 6. Human Fly / Sunglasses After Dark 7. It's Just That Song
&nbsp [0 critique]