COFFIN NAILS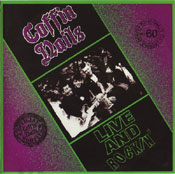 "Live And Rockin' - CD"
Anagram Rcds | 13 titres | 2007 | Psychobilly
Critique : Édition CD du 1er live du groupe (1989) qui, rappelons-le, est loin d'être une réussite. Quoiqu'il en soit, ce CD est complété par un livret comportant des notes de Sinon Notte et quelques photos d'époque. De l'avis même d'Humungus, chanteur-guitariste du groupe, "It's the worst album we ever recorded, but it's too late, you already bought it". ... Peut-être n'est-il pas trop tard pour vous...
Liste des titres: 1. Please Little Woman 2. Heartbreak Hotel 3. Skateboard Frenzy 4. Brand New Cadillac 5. Penetration 6. Let's Wreck 7. Myra Hindley 8. Do You Love Me 9. Loose Loose Woman (She's a Moose) 10. Uncle Willy 11. Blubbery Love (Saintly Snails) 12. Psycho Disease 13. My Baby Left Me
&nbsp [0 critique]