BRIAN SETZER ORCHESTRA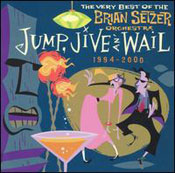 "Jump, Jive and Wail - The Very Best Of 1994-2000"
Interscope Rcds | 23 titres | 2003 | Divers
Critique : Excellent Best Of qui regroupe des titres des 4 albums de l'Orchestra Swing/Rockab fondé par Brian SETZER en 1992. Pas d'inédites, mais des titres bien choisis et représentatifs du groupe, entre Jazz, Swing et Rockabilly.
A noter: Le livret comporte une bio assez détaillée.
Liste des titres: 1. Pennsylvania 6-5000 2. Jump, Jive, An Wail 3. Hoodoo Voodoo Doll 4. The House Is Rockin 5. (The Legend Of) Johnny Kool 6. Crazy Little Thing Called Love 7. Town Without Pity 8. Rock This Town 9. Americano 10. Sammy Davis City 11. Mack the Knife 12. This Cat s on a Hot Tin Roof 3. The Dirty Boogie 14. Ball and Chain 15. 16. Rumble in Brighton 17. Switchblade 327 18. Hey, Louis Prima 19. Lady Luck 20. Jumpin East of Java 21. The Footloose Doll 22. Ghost Radio 23. Gettin in the Mood
&nbsp [0 critique]