BEAT DEVILS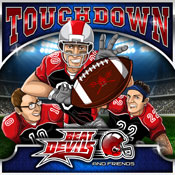 "Touchdown"
Autoproduit | 14 titres | 2013 | Psychobilly
Critique : The BEAT DEVILS ont le vent en poupe! Le groupe moscovite (et ses amis) vient de sortir son 2nd album en téléchargement gratuit. Un album de reprises (WIGGSBILLE SPLIFFS, AC/DC, BATMOBILE, SHARKS, etc...), chacune faite avec un ou plusieurs invités (des musiciens venant d'autres groupes comme STRESSOR, The MAGNETIX, The POACHERS, DILLBERRIEZZ, etc...). Bref, une excellente réalisation, fraiche et bien entrainante. Les arrangements sont imaginatifs et variés (saxo par-ci, voix féminine par là, ...) mais le tout garde une très bonne cohérence. La contrebasse a été mise en avant, par rapport aux précédentes productions de groupe, et le son général, plus dynamique, les rapproche désormais de leurs compatriotes des STRESSOR et autres MAGNETIX.
Retrouvez toutes les infos de cette excellente initiative sur la page Facebook du groupe: www.facebook.com/thebeatdevils. Assurez-vous tout de même d'avoir un anti-virus efficace installé sur votre ordinateur: le site de téléchargement m'a envoyé plusieurs chevaux de Troie pendant la procédure.
À noter: une vidéo "The Making Of Touchdown" est disponible sur YouTube.
Liste des titres: 1. Feel So Lonely [feat. Chris (guitar) & Ozzy (acoustic guitar) from Wise Guyz] 2. Heaven's Gate [feat. Aleksey Fetisov (vocals) from Jackknife Rockabilly Trio] 3. Mad At You [feat. Terry Drybones (guitar, vocals) from The Magnetix] 4. Turn The Page [feat Livsey (vocals) from Dillberriezz & Andrey Bitulev (lap steel guitar) from The Telescopes] 5. Whole Lotta Rosie [feat Lena (vocals) from The Poachers & Mr. Rocket (drums) from The Magnetix] 6. Gonna Be Loved [feat Ernie Lima (USA, saxophone) from Linda & The Epics] 7. Hooker [feat Andrew Rublev (vocals) from Stressor] 8. Get Over Little Girl [feat Paul Stepin (guitar) from Smokin' Boolldozers] 9. Love Potion #9 [feat Oleg Larionov (trumpet) & Stepa Zhitnov (sax)] 10. Lonely Skies [feat Dashoo (vocals) & Alexander Monroe (drums) from Off Beat] 11. Runaway [feat Dima Astakhov (vocals) & Alex Rofe (keyboards) from The Types] 12. Nothing Left But The Bones [feat Vladimir Katulskiy (guitar) from Route 67 & Andrey Panasovskiy (sax)] 13. Tainted Love [feat. Dmitry D-jazz (ex-Meantraitors) on double-bass & Lex (keyboards)] Bonustrack 14. Wild Wild West [Bubble Gum Brothers - feat. Drunken Sailors Band]
&nbsp [0 critique]